(Click my portrait for a larger image)
About me:
I am Chair / Professor in Statistics at the Department of Mathematics of the University of Manchester.
I am a member of the Statistics section in the Department of Mathematics.
In my research I am interested in the principles of statistical learning from data and I develop corresponding probabilistic methods, models and computational tools. Many of these methods are motivated by challenges in the analysis of high-dimensional biomedical data.
I currently teach the modules Statistical Methods and in Multivariate Statistics and Machine Learning to about 350 mathematics and computer science students each year. In addition I supervise the short-term and long-term thesis projects of taught and research students (about 10 per year). I am also the personal academic advisor of about 30 students.
Adminstratively, I am the postgraduate research (PGR) director responsible for four PhD programmes (Statistics, Probability, Financial Mathematics, Mathematics in Actuarial Sciences) offered by the Department of Mathematics.
See also the interview with me in the "Meet our Academics" series on the Departmental Blog.
Contact:
Do you require a reference letter? Here is a guide who to ask for academic reference letters.
Current Administrative Roles:
Are you interested in a PhD? Please read about becoming a PhD student at the Department of Mathematics.
Research:
I have been selected by Clarivate / Thomson Reuters as "Highly Cited Researcher" in the field of computer science in the years 2017, 2016, 2015 and 2014 taking into account publications from 2002 to 2015.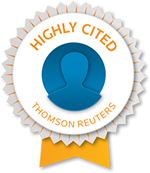 Teaching and Learning:
Positions:
Education:
Misc. Links: