Back to Teaching page.
Contact and Information:
Korbinian Strimmer, Peter Foster and Neil Walton
Department of Mathematics, University of Manchester, Spring 2021
Starts: 5 March 2021
Ends: 30 April
Time: Friday 10:00-11:30
Place: Online on Zoom

Send email for the Zoom ID and password.
Synopsis:
In this term we will discuss current topics in statistical machine learning, such as representation learning, generalisability, deep learning, causal inference and reinforcement learning, following the book "Patterns, predictions, and actions: a story about machine learning" by Hardt and Brecht (2021).
Literature: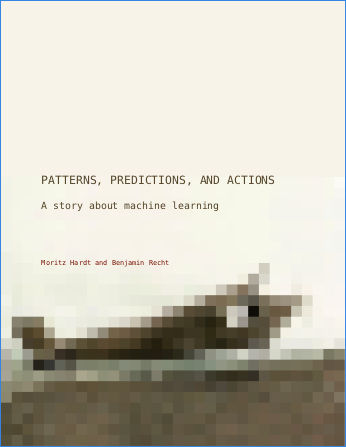 Schedule:
We start on 5 March 2021 and then meet Friday mornings to work our way through the book, focusing on selected content.
Sessions:
| Session | Date | Discussion |
| --- | --- | --- |
| 1 | Friday 5 March 2021 | Chapters 1 "Introduction" and 2 "Decision making" |
| 2 | Friday 12 March 2021 | Chapters 3 "Supervised learning" and 4 "Representations and features" |
| 3 | Friday 19 March 2021 | Chapter 5 "Optimization" |
| 4 | Friday 26 March 2021 | Chapter 6 "Generalization" |
| 5 | Friday 9 April 2021 | Chapter 7 "Deep learning" |
| 6 | Friday 16 April 2021 | Chapter 9 "Causality" |
| 7 | Friday 30 April 2021 | Chapters 11 "Sequential decision making" and 12 "Reinforcement" learning |