Back to Teaching page.
Korbinian Strimmer, Dirk Hasenclever and others
University of Leipzig, Winter Term 2013/14 and Summer Term 2014
Starts: 11 February 2014
Ends: Summer 2014
Time: Tuesday 13:30-15:00
Place: IZBI Seminarraum 110, Härtelstr. 16-18

Synopsis:
In this reading seminar we will discuss the foundation of probability and statistics following D.V. Lindley in his book Understanding Uncertainty.
Literature:
D. V. Lindley - Understanding Uncertainty", 2006, Wiley.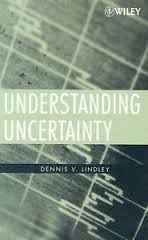 Schedule:
We start with discussing on 11 February 2014 and then simply meet (tpyically) Tuesday afternoons to work our way through the book.
Sessions:
| Session | Date | Discussion |
| --- | --- | --- |
| 1 | Tuesday 11 February 2014 | Chapters 1 and 2 |
| 2 | Tuesday 25 February 2014 | Chapters 3, 4, and 5 |
| 3 | Tuesday 4 March 2014 | Chapters 6 and 7 |
| 4 | Tuesday 18 March 2014 | Chapter 8 |
| 5 | Tuesday 1 April 2014 | Chapter 9 |
| 6 | Tuesday 15 April 2014 / 13:45 | Chapter 10 |
| 7 | Tuesday 29 April 2014 / 13:45 | Chapter 11 |
| 8 | Tuesday 20 May 2014 / 13:45 | Chapter 12 - Chapter 14 |